STEP Consulting GmbH is an independent engineering and consulting company based in Aachen, Germany. For more than 25 years, we have worked as a SME in Germany and internationally with consulting, planning and training services. Our technical expertise lies in process engineering with a focus on water and energy.
We consider sustainable and innovative strategies as the core of our solution approaches in order to successfully implement your individual projects. We see ourselves not only as strategic consultants, but also as planners who accompany companies in the selection, tendering and implementation of the techno-economical solutions.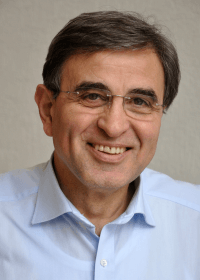 Dr.-Ing. Süleyman Yüce
Managing Director
We benefit from our proximity to the research landscape and the cooperation and exchange with students at RWTH Aachen University. This, and with the help of proven plant planning and simulation tools, enables us to offer individual state-of-the-art solutions. Furthermore, depending on the project's requirements, we strengthen our team with external specialists from construction engineering, architecture, technical building equipment and structural design. This approach enables us to offer even large-scale projects from a single source.

Dr.-Ing. Yüce is both managing director and sole shareholder of STEP Consulting GmbH, so that we, as an independent engineering company, solely represent the interests of our customers. In addition to being the managing director of STEP, Dr.-Ing. Yüce worked a senior engineer at the Chair of Process Engineering Aachen – AVT.CVT – for many years at RWTH Aachen University.
We accompany you - STEP by STEP - in the implementation of your projects from the preliminary study to the basic engineering to the realization. Among others we are specialized in the following areas:

Energy technology


Heat integration, steam generation, waste gas treatment, waste gas utilisation, CHP, renewable energies, energy storage, small hydropower

Process engineering


Process conception, process design, basic, detail engineering, process optimisation, membrane processes

Environmental technologies


Waste gas purification, elimination of trace substances, recovery of valuable substances, siloxane removal from biogases

Water technology


Seawater desalination, drinking water treatment, boiler feed water treatment, cooling water treatment, treatment of landfill leachate, industrial wastewater and municipal wastewater, reverse osmosis, MED, concentrate treatment

Training/Workshop


Process engineering basics, plant operation, simulation, plant design